5 Science-Backed Stoic Tips For A Flat Belly Fast
These are

 
Stoic tips
, if you're willing to embrace some temporary discomfort, it doesn't have to take years trudging away on the treadmill, you can lose weight surprisingly fast.
1.

 Fasting
When you abstain from eating your body has to go into its caloric energy stores, your round belly! Increasingly the top metabolic science is finding that a daily 12 - 16 hour intermittent fast puts prompts your body to stop storing fat and start burning it. Skip breakfast, and have a late lunch and do the rest of your eating and snacking in a daily 8-hour window. The first time you do an intermittent fast, you'll be a little uncomfortable and have food cravings but you'll quickly get used to it. The same goes for 24-hours fasts which you'll want to do either once weekly or monthly depending upon how badly you want to lose weight - fasting from lunch to lunch is easier.

2.

 Cold Shower
Our next very uncomfortable fat burning tip is a little

 
cold thermogenic shock
. This

 
hormesis
 

(positive stress) prompts your body to burn fat. Spend the 1st one to two minutes of your shower shivering in the coldest water you can stand.
3. 

Do some High-Intensity Interval Training

Cutting edge exercise science has found that less is sometimes more, especially in the case of HIIT, intense cardio training sessions lasting less than 30 minutes and sometimes as little as 4 minutes. A study that was published in the Journal of Obesity found it makes a big difference in fat loss.




4.

 Cut Out Sugar and Bread
Processed, sugary foods and white flour-based bread products in colorful packaging are the worst dietary offenders. Laboratory spectroscopy analysis of these kinds of foods reveals that they are rife with toxins that cause chronic inflammation and obesity.  Cut this crap out totally. Even "whole grain" or "gluten-free" bread is probably contributing to your belly fat.

5.

 NMN - An
Epigenetic Vitamin

for Rapid Weight Loss

Our bodies rely on a natural form of Vitamin B3 to activate genes for metabolism, stress response, digestion, immunity and many, many other functions. Over time our bodies become less effective at absorbing and utilizing this vitamin, the NAD+ molecule. There's a couple of ways to get extra NAD+ but the most effective and affordable is taking NMN, it's direct precursor, as a supplement.

"I'm 32 and spent $200k on biohacking. Became calmer, thinner, extroverted, healthier & happier."
-Serge Fauget, Silicon Valley Entrepreneur and Millionaire
The whole idea behind Infinite Age Co. is to offer a line of supplements that can actually reverse your age. 
We carry products that can also protect you from future injuries and illnesses so that you can keep knocking out that to-do list, hitting the gym, and living your best life.
We believe in science and supplements. And with proper use, you can biohack your way to a longer, happier, and more productive life. 
Everyone gets old. And as you age, things that were once easy become harder. Exercising, an active hobby, or even your job can no longer be practical once those miles you've put on your body start to show.
A stressful career or hyper-active lifestyle can even cause premature aging. This can have a negative impact on your lifestyle and can even cause productivity problems, pain, and sleepless nights.
But thanks to this thing called biohacking....

You can actually reverse the wear-and-tear on your body. 
YES! That means reversing your age.
How?
Infinite Age Co. products were specifically formulated, for biohackers by biohackers, to maximize your vibrant longevity. Our products do everything from healing injuries (BPC) to boosting your NAD+ levels (the thing that reverses aging).
Our founder, Russ Symes, is a hard-working entrepreneur. And like most entrepreneurs, he was overworked and stressed out. This led to a slump in his productivity and premature aging.
After hearing about how Silicon Valley entrepreneurs and professional athletes were biohacking to increase productivity and reverse their age, he decided to dig a little deeper into the subject.
Countless hours and thousands of dollars were spent… but after it was said and done, he discovered the most effective supplements to reverse his age.
These same products are now available for you through Infinite Age Co.
But don't expect to find these products at your supplement shop. These are the most cutting-edge products, backed by science, that work to actually stop aging in its tracks.

Biohacking has grown in popularity as more and more top athletes, CEOs, and entrepreneurs are discovering it's benefits. As science progresses, we are finding more ways to biohack our bodies to extend our life and feel younger.
Infinite Age's mission is to find the most effective products so that you can start biohacking TODAY!
Check out some of the most famous biohackers today:
With Biohacking, You Can Battle Old Age With Breakthrough Supplements Backed By The Latest In Science…..
But Don't Just Take Our Word For It, See What Our Customers Are Saying About Infinite Age
:
★ ★ ★ ★ ★
I rarely write reviews but must with this one. My doctor told me about bpc recently after dealing with a torn tricep and anxiety. My tricep has been torn since March 2019. One week into this stuff and my tricep is starting to flex again! It's actually healing! I'm a personal trainer and haven't been able to utilize any push movements so I've been feeling down about my lose of muscle size up top... the other day I was able to bench almost as much as I left off for the first time in months! Also my anxiety and energy levels have drastically improved. 5 stars all around for this one. Bpc doesnt break down in your stomach acids and is able to go to the damaged tissue or muscle so injections aren't necessary, finally good to see an oral bpc product. My bloodwork also came back with lowered liver enzymes and creatinine whereas they were on the high side prior. Cant wait to continue this product and see what other miracles this can do.

This is my personal experience I am not a doctor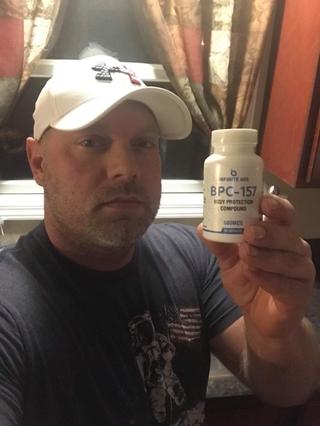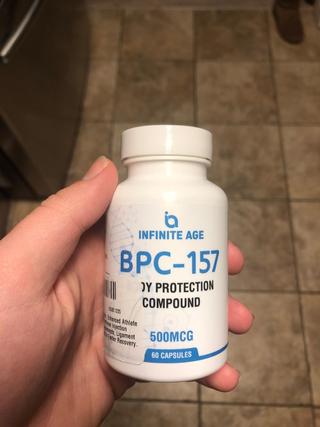 ★ ★ ★ ★ ★
Such a wonder supplement to repair or heal almost any type of injury or condition. I've used BPC to fix my mother's tennis elbow, and to heal my wife's sciatic nerve pain caused from a disc herniation. I'm glad I've finally been able to find an oral version. The oral method works just as effective and systematically. I'm using it now to heal my leaky gut that I've recently been diagnosed with.

They're small and easy to swallow. Each capsule has the max dose needed for BPC to be as effective as possible (500 mcg), so you only need one per day.

★ ★ ★ ★ ★
I think this product is great for people seeking recovery from injury; whether it's sports related or just some pesky tendon or area that bothers them. I've had some tendinitis issues in my right bicep tendon and left knee ever since some kickboxing fights years ago. It has helped pretty much get rid of the achy feeling and associated pain; I'm actually able to do things that utilize it! (Kickboxing, weights, etc). Great product because it's not an injectable which has caused me to shy away from using it in the pasty. Happy to have found this on amazon.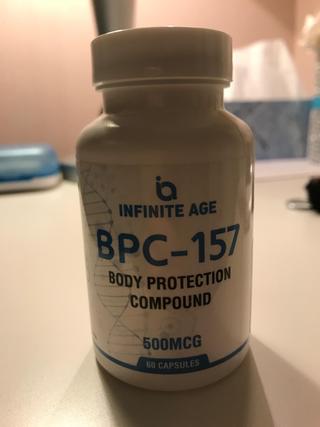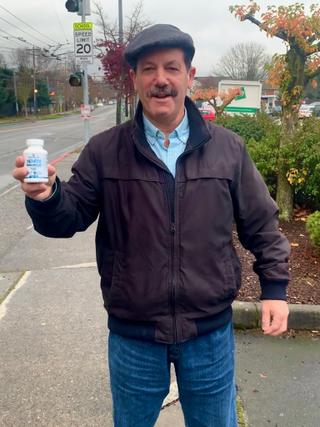 ★ ★ ★ ★ ★
I'm 41 years old and have experienced a gradual decrease in energy levels over the past few years. I tried other NMN products and they were pricey and the results were satisfactory.Then I decided to try out Infinite Age and the results have been great and it didnt set me back price wise.With NMN I feel more focused and do not feel lathargic throughout the day. Ive tried a few other nmn products and found infinite age to produce the results I expect from a genuine NMN product.
★ ★ ★ ★ ★
Best quality NMN on the market hands down. I've been searching for a quality product and been trying different ones for few years now, but I have found exactly what I have been searching for with this product. In a very short amount of time I noticed more energy, positivity, alertness, overall I've felt and seen noticeable results of mental clarity. This is definitely a product I will continue to re order. This product is also much cheaper and more efficient than other options available. Very happy and beyond satisfied with this product.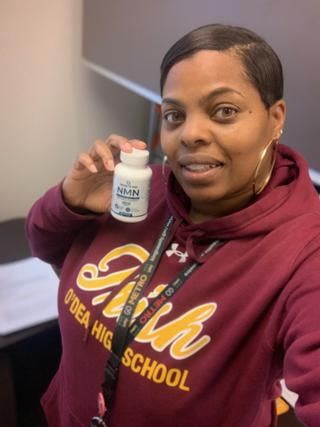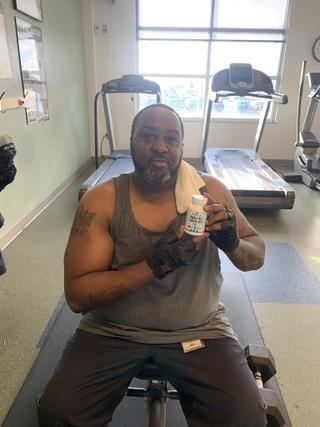 ★ ★ ★ ★ ★
I've been taking this for a week now (2 in the morning while in a fasted state) and it's really helping with mental focus and eliminating brain fog. I recently stopped drinking caffeine and had been feeling cloudy in the morning. I ordered this NMN to help with focus and energy. It works fantastically! After looking at some other brands, I picked this one because 1) it's reasonably priced and 2) unlike other companies that just slap a "3rd party tested" label on their product, these guys actually produced the certificate of analysis! I would absolutely recommend and will for sure buy again.
Infinite Age PURE NMN (250mg) Supplement
Infinite Age C60 Fullerene
Infinite Age Body Protection Compound