9 Ways BPC Can Change your Life 
How To Feel 100% With This Big Shift In Preventing And Healing Injuries

1.

 It heals tendons, ligaments, muscles, and even bones.  
2.

Growth Factor
BPC-157 stimulates growth factor EGF-1 and EGR-1 nerve growth factor. Nerve growth is great, it empowers neuroplasticity; the capacity of the mind to change, adapt and heal itself. We can attribute the
Nootropic effects some report

to the nerve growth stimulation.  



3. 

Leaky Gut 

BPC-157 does wonders for a cantankerous gut and gastrointestinal system. If you suffer from leaky gut, irritable bowel syndrome or digestion issues it's probably worth.




4.

 

Neuroprotection

 
 It's demonstrated to have Neuroprotective effects in animal studies. More Neuroprotection is good, this means that your mind is more resilient to stress, anxiety, and toxicity of modernity.
5.

 

Addiction Recovery

 
If you're going to use a foundation to even out skin tone, find one that gives coverage but doesn't add texture. Be willing to spend money on a foundation and take your time to experiment and find the exact right shade. Matching your skin tone exactly is critical.
6.

 Reduces depression
(maybe)
A strong argument can be made that it raises serotonin, which some users attribute an antidepressive effect to.
7. 

Angiogenesis

Means the birth of new blood cells.




8.

 Nootropic
Ryan Michael Ballow here. notes that 300 - 500 micrograms of it produced a sublime Nootropic effect, spiked his libido and enhanced sleep quality. 
9. 

Cancer Treatment

Apparently, it rescues animals in studies from cancer cachexia, a metabolic downstream effect of cancer that is responsible for 20% of cancer deaths.
"I'm 32 and spent $200k on biohacking. Became calmer, thinner, extroverted, healthier & happier."
-Serge Fauget, Silicon Valley Entrepreneur and Millionaire
The whole idea behind Infinite Age Co. is to offer a line of supplements that can actually reverse your age. 
We carry products that can also protect you from future injuries and illnesses so that you can keep knocking out that to-do list, hitting the gym, and living your best life.
We believe in science and supplements. And with proper use, you can biohack your way to a longer, happier, and more productive life. 
Everyone gets old. And as you age, things that were once easy become harder. Exercising, an active hobby, or even your job can no longer be practical once those miles you've put on your body start to show.
A stressful career or hyper-active lifestyle can even cause premature aging. This can have a negative impact on your lifestyle and can even cause productivity problems, pain, and sleepless nights.
But thanks to this thing called biohacking....

You can actually reverse the wear-and-tear on your body. 
YES! That means reversing your age.
How?
Infinite Age Co. products were specifically formulated, for biohackers by biohackers, to maximize your vibrant longevity. Our products do everything from healing injuries (BPC) to boosting your NAD+ levels (the thing that reverses aging).
Our founder, Russ Symes, is a hard-working entrepreneur. And like most entrepreneurs, he was overworked and stressed out. This led to a slump in his productivity and premature aging.
After hearing about how Silicon Valley entrepreneurs and professional athletes were biohacking to increase productivity and reverse their age, he decided to dig a little deeper into the subject.
Countless hours and thousands of dollars were spent… but after it was said and done, he discovered the most effective supplements to reverse his age.
These same products are now available for you through Infinite Age Co.
But don't expect to find these products at your supplement shop. These are the most cutting-edge products, backed by science, that work to actually stop aging in its tracks.

Biohacking has grown in popularity as more and more top athletes, CEOs, and entrepreneurs are discovering it's benefits. As science progresses, we are finding more ways to biohack our bodies to extend our life and feel younger.
Infinite Age's mission is to find the most effective products so that you can start biohacking TODAY!
Check out some of the most famous biohackers today:
With Biohacking, You Can Battle Old Age With Breakthrough Supplements Backed By The Latest In Science…..
But Don't Just Take Our Word For It, See What Our Customers Are Saying About Infinite Age
:
★ ★ ★ ★ ★
I rarely write reviews but must with this one. My doctor told me about bpc recently after dealing with a torn tricep and anxiety. My tricep has been torn since March 2019. One week into this stuff and my tricep is starting to flex again! It's actually healing! I'm a personal trainer and haven't been able to utilize any push movements so I've been feeling down about my lose of muscle size up top... the other day I was able to bench almost as much as I left off for the first time in months! Also my anxiety and energy levels have drastically improved. 5 stars all around for this one. Bpc doesnt break down in your stomach acids and is able to go to the damaged tissue or muscle so injections aren't necessary, finally good to see an oral bpc product. My bloodwork also came back with lowered liver enzymes and creatinine whereas they were on the high side prior. Cant wait to continue this product and see what other miracles this can do.

This is my personal experience I am not a doctor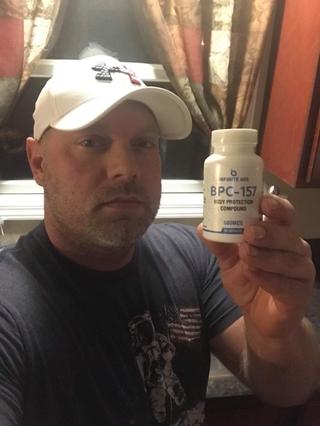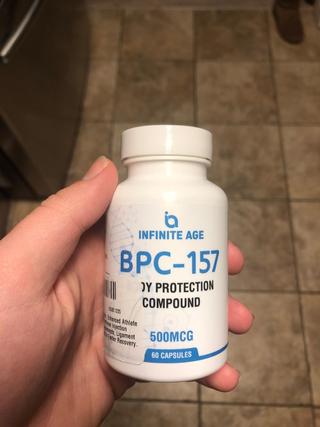 ★ ★ ★ ★ ★
Such a wonder supplement to repair or heal almost any type of injury or condition. I've used BPC to fix my mother's tennis elbow, and to heal my wife's sciatic nerve pain caused from a disc herniation. I'm glad I've finally been able to find an oral version. The oral method works just as effective and systematically. I'm using it now to heal my leaky gut that I've recently been diagnosed with.

They're small and easy to swallow. Each capsule has the max dose needed for BPC to be as effective as possible (500 mcg), so you only need one per day.

★ ★ ★ ★ ★
I think this product is great for people seeking recovery from injury; whether it's sports related or just some pesky tendon or area that bothers them. I've had some tendinitis issues in my right bicep tendon and left knee ever since some kickboxing fights years ago. It has helped pretty much get rid of the achy feeling and associated pain; I'm actually able to do things that utilize it! (Kickboxing, weights, etc). Great product because it's not an injectable which has caused me to shy away from using it in the pasty. Happy to have found this on amazon.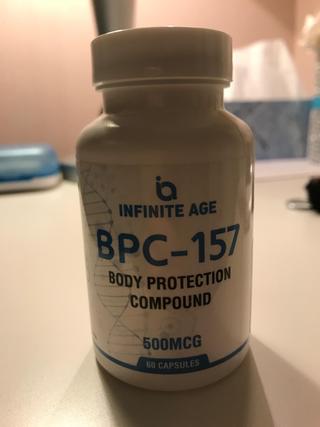 Infinite Age PURE NMN (250mg) Supplement
Infinite Age C60 Fullerene
Infinite Age Body Protection Compound