If you're looking for a miracle supplement that can heal your broken neck, failing kidneys, or traumatic brain injury. BPC CANNOT do this….
But If you are searching for the single, best-kept secret research product, BPC might be your answer.
WHAT ARE PEOPLE SAYING ABOUT INFINITE AGE CO. BODY PROTECTION COMPOUND?
Check Out What Our Followers on

Are Saying about Infinite Age Body Protection Compound

The Secret Weapon 
Shown to Accelerate Healing in Mice
Infinite Age Body Protection Compound was specifically designed to mimic a protective protein found in the stomach. A sequence of amino acids were used to formulate this groundbreaking compound. The original protein was actually found in and isolated from human gastric juice.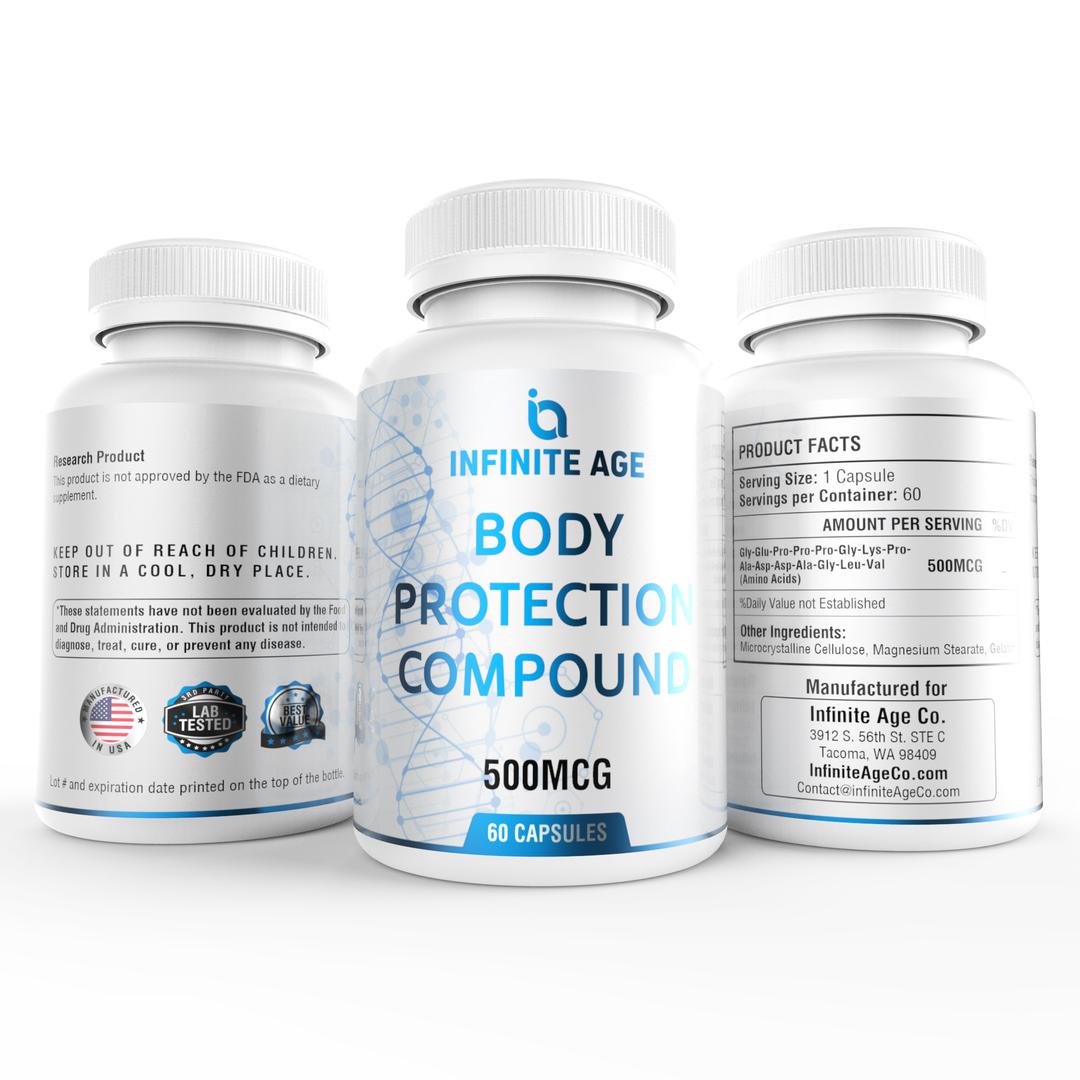 The Secret Weapon Shown to Accelerate Healing in Mice

Tweaked knee, Torn muscle, Damaged ligament, Overworked body, Joint pain...
Studies have shown that BPC might actually help. Various studies have shown accelerated healing in mice.
BPC is NOT a dietary supplement.

FREQUENTLY ASKED QUESTIONS

1. How should I store my BPC?

BPC has a shelf life of around 2 months. However, this shelf life can be significantly extended by keeping in a refrigerator.


Latest research shows that BPC can survive in the gastric juices of the body. BPC is gastrically stable. This means that it is effective with oral use.


3. How many milligrams are in a bottle?

With 500mcg per capsules, and 60 capsules per bottle, there is a total of 30mg of BPC per bottle.


4. How much BPC should I take?

We've seen 1-2 capsules daily is an effective dose for accelerated healing. 1 capsule daily is an effective dose for protecting against future injuries.


5. Is this authentic BPC?

Yes. This is authentic BPC. It has the amino acid  sequence: Gly-Glu-Pro-Pro-Pro-Gly-Lys-Pro-Ala-Asp-Asp-Ala-Gly-Leu-Val.

6. What's BPC capsules made from?