Surefire Ways To Increase Motivation and Improve Your Performance as An Entrepreneur Or Small-Business Owner… FAST
1.

 Learn to delegate and lead.

Invest in teaching your team. Once some of the mind-numbing tasks are taken off your plate, you'll immediately see an increase in your motivation, creativity, and performance.



2.

 Set time aside to visualize yourself accomplishing your goals.
Whether it's hitting $100k in monthly sales or buying that $2M home. Sit back, close your eyes, and begin to feel and see yourself accomplishing these goals.
3. 

Meditate daily. 



4.

 Wake up early.
This has helped many successful entrepreneurs by giving them a mental edge. You are beating your competition to the punch because you're working while they're sleeping.
5.

 Biohack yourself.
Wear-and-tear on your body is the #1 cause for motivation and performance issues. As entrepreneurs and business-owners, we run our bodies hard. Lacking time and energy, we forget that without a strong body, we can't have that next BREAKTHROUGH. Biohacking-using tools, technology, and science to achieve good health faster-will keep your body running like a well-oiled machine.
"I'm 32 and spent $200k on biohacking. Became calmer, thinner, extroverted, healthier & happier."
-Serge Fauget, Silicon Valley Entrepreneur and Millionaire
Almost every person, who has made it to the top of his or her career, has dealt with stress, motivation problems, and a lack of performance…
And often enough, these problems are caused by the hard miles that they put on their bodies.
But what if we could reverse those hard miles…? like turning miles back on a car?
The whole idea behind Infinite Age Co. is to offer a line of supplements that can heal and reverse the damage and premature aging caused by a high-performing lifestyle.
Our product line also provides protection from future injuries and illnesses so that you can keep knocking out that to-do list and having those breakthrough ideas. 
The stuff we offer isn't something you can just go down to your supplement shop and get.
Hi! I'm Russ Symes. Founder of Infinite Age Co and several other e-commerce brands. Within 2 short years, I was able to break-through my sticking point of $50k in monthly sales to over $600k a month!
My fiancé and I enjoying Christmas
But… about a year ago... 
I Experienced A Complete Flop In My Creativity, Motivation, And Productivity That Almost Led To My Failure.. 
Instead of bouncing out of bed, ready to tackle the day, I would just lay there and scroll facebook for about an hour. Just the mere thought of my to-do list would have me wanting to cover my head and hit the snooze button.. 
You see… At this time, I was in a transitional period… I had just started delegating and was building a team to help with my business. 
I had made some pretty big commitments by hiring good (but expensive) team members. Which meant higher overhead. The pressure was on! I had to really grow this baby to stay profitable. I gotta say... This had to be about the absolute worst time for my productivity gas tank to hit empty.
And the worst part about it was…

I had no idea how to solve the problem. But giving up wasn't an option. So of course...
I tried what most people would do in this situation….
I downed loads of coffee and energy drinks
I worked more hours (just ended up spinning my wheels)
I even watched motivational videos on YouTube (cool but didn't work)
After all this… I realized...The cause of my slump was much deeper.
And that's when I heard about this thing called "biohacking." All the Silicon Valley entrepreneurs and CEOs were doing it! These top-performers were using supplements and science to actually reverse their age to keep their bodies humming along like a new Mercedes-Benz.
So I tried experimenting with different supplements… and it actually worked! 
I had no idea! 
My slump was caused by the hard wear-and-tear I was putting on my body. I was literally aging myself twice as fast. But through my biohacking experiments..I had actually discovered...
The Most Effective Strategy To Maintain Your Productivity, Motivation, And Longevity... And It's So Easy!
I spent loads of cash and a lot of time finding the most effective compounds and supplements that worked.

But… I gotta say... It was time and money well-spent because, I not only solved my motivation and productivity issues, but I figured out a way to actually increase my longevity and prevent future illnesses and burnouts.
Let me give you a quick run-down on the things I've accomplished since I started biohacking:
I literally 10x my revenues from $50k to $500k
I systemized my business and have great people who run my business for me.
I built a million-dollar amazon store.
And that's why I created Infinite Age: products made for biohackers by biohackers.

It took me years to find the right supplements that actually worked and cost me thousands of dollars to do it. But it was totally worth it!
It makes getting out of bed and tackling my to-do listing something I enjoy again!

And, lucky lucky for you...
I've narrowed down all the biohacking supplements I've been taking, and offered only the most effective ones to you.


Here's just a sample of why Infinite Age Co. products will work for you…
All of our products have been actually tested by biohackers so that you know Infinite Age supplements are the most effective ones.
We offer a full-line of supplements to help cure aging ailments so you can feel younger and perform better even as you age… it's like turning the miles back on your car.
Our products are tested before they're manufactured so you can rest assured that there are no impurities in our products.
Infinite Age PURE NMN (250mg) Supplement
Infinite Age C60 Fullerene
Infinite Age Body Protection Compound
But don't just take my word for it. Look at what our customers are saying:
★ ★ ★ ★ ★
I rarely write reviews but must with this one. My doctor told me about bpc recently after dealing with a torn tricep and anxiety. My tricep has been torn since March 2019. One week into this stuff and my tricep is starting to flex again! It's actually healing! I'm a personal trainer and haven't been able to utilize any push movements so I've been feeling down about my lose of muscle size up top... the other day I was able to bench almost as much as I left off for the first time in months! Also my anxiety and energy levels have drastically improved. 5 stars all around for this one. Bpc doesnt break down in your stomach acids and is able to go to the damaged tissue or muscle so injections aren't necessary, finally good to see an oral bpc product. My bloodwork also came back with lowered liver enzymes and creatinine whereas they were on the high side prior. Cant wait to continue this product and see what other miracles this can do.

This is my personal experience I am not a doctor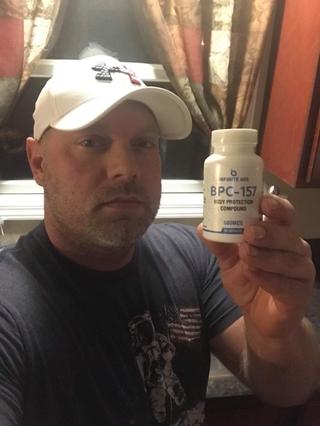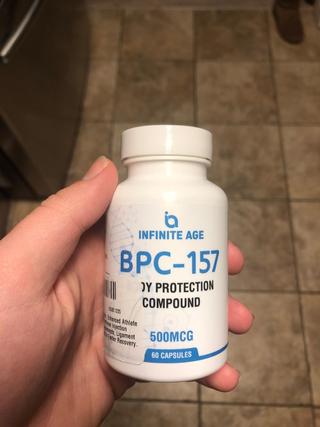 ★ ★ ★ ★ ★
Such a wonder supplement to repair or heal almost any type of injury or condition. I've used BPC to fix my mother's tennis elbow, and to heal my wife's sciatic nerve pain caused from a disc herniation. I'm glad I've finally been able to find an oral version. The oral method works just as effective and systematically. I'm using it now to heal my leaky gut that I've recently been diagnosed with.

They're small and easy to swallow. Each capsule has the max dose needed for BPC to be as effective as possible (500 mcg), so you only need one per day.

★ ★ ★ ★ ★
Best quality NMN on the market hands down. I've been searching for a quality product and been trying different ones for few years now, but I have found exactly what I have been searching for with this product. In a very short amount of time I noticed more energy, positivity, alertness, overall I've felt and seen noticeable results of mental clarity. This is definitely a product I will continue to re order. This product is also much cheaper and more efficient than other options available. Very happy and beyond satisfied with this product.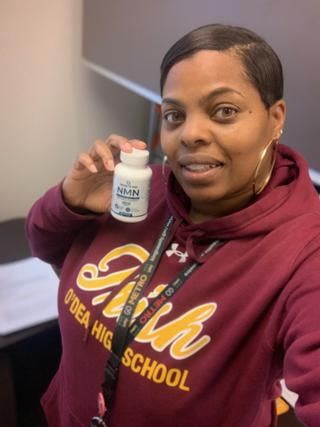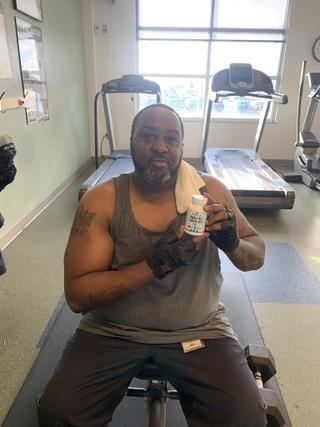 ★ ★ ★ ★ ★
I've been taking this for a week now (2 in the morning while in a fasted state) and it's really helping with mental focus and eliminating brain fog. I recently stopped drinking caffeine and had been feeling cloudy in the morning. I ordered this NMN to help with focus and energy. It works fantastically! After looking at some other brands, I picked this one because 1) it's reasonably priced and 2) unlike other companies that just slap a "3rd party tested" label on their product, these guys actually produced the certificate of analysis! I would absolutely recommend and will for sure buy again.
★ ★ ★ ★ ★
I think this product is great for people seeking recovery from injury; whether it's sports related or just some pesky tendon or area that bothers them. I've had some tendinitis issues in my right bicep tendon and left knee ever since some kickboxing fights years ago. It has helped pretty much get rid of the achy feeling and associated pain; I'm actually able to do things that utilize it! (Kickboxing, weights, etc). Great product because it's not an injectable which has caused me to shy away from using it in the pasty. Happy to have found this on amazon.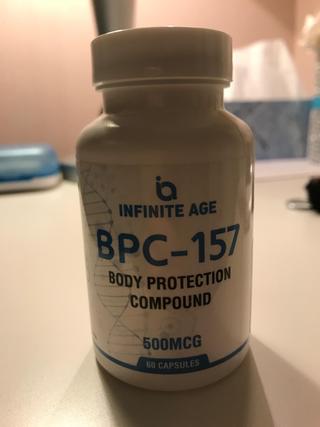 Protect, Cure, And Heal Your Overworked Body So You Can Keep Your Body Healthy And Maintain Your Productivity
Join Our Mail List for Blog Posts, Discount Codes, And More