NMN

 

is a refined form of Vitamin B3 that feeds your Mitochondria the crucial

 

fuel

, NAD, that it needs to empower your health. 

1.

 

Anti Aging
As the decades pass, the entropy of life throws a wrench into our Mitochondrial function which manifests as dementia, Alzheimer's and heart disease. Dr. Philip Milgram of the NAD Treatment Center in San Diego, California proclaimed:
"NAD will turn out to be one of the greatest advances in medical science since Fleming."
2.

 Alzheimer's Treatment
There are 15 papers indicating NMN as a promising treatment for Alzheimer's disease, a 2017 Chinese paper goes as far as saying that NMN reverses Alzheimer's via a JNK activation mechanism. A 2015 animal study out of the University of Maryland, School of Medicine in Baltimore found that it preserves mitochondrial function, it was demonstrated that:
...mitochondrial respiratory function was restored in NMN-treated AD-Tg mice. Levels of SIRT1 and CD38 change with age and NMN treatment. Furthermore, we found a shift in dynamics from fission to fusion proteins in the NMN-treated mice.
3. 

Weight Loss

My weight beginning to drop within a couple of days. Within weeks I felt that I was shedding belly fat and noticed a visible flattening of my tummy... On January 7, 2016, I recorded my lowest weight of 196.8, a loss of 19.1 lbs.  At that time, I also noticed an increase in strength, endurance and muscle size. By the end of the program, I weighed 208 and I believe that I had lost around 20 lbs. of fat and replaced it with around 12 lbs. of muscle.




4.

 Diabetes Treatment
Additionally, a decline in NAD levels is closely related to the development of various metabolic disorders, including diabetes and fatty liver disease. In addition, many studies have revealed that the administration of NAD precursors, such as nicotinamide mononucleotide (NMN)... efficiently increases NAD levels in various tissues and prevent such metabolic diseases.

5.

 Addiction Recovery
Before the New York Times was praising (and then criticizing, and then praising) NAD+ as an anti-aging gamechanger it was renowned as a powerful tool by addiction centers in the noble business of saving souls lost to drug and alcohol addiction. Three books on Amazon detail rehab protocols and case studies of success with NAD treatment. There's no science papers discussing NMN specifically and addiction but it stands to reason that it would be helpful to those with more mild addictions, in addiction centers they use NAD intravenously, which is a more direct way of getting the NAD molecule which NMN is a precursor of.

6.

 

Increase Energy and Motivation
Several months into the original regimen of NMN my neighbors were stopping me and commenting that I was looking healthier, younger, more energetic, buff, really good, etc.  One of the more interesting comments was that I was moving like a much younger person. After that comment, I focused on my walking mechanics and realized that I was walking with a much straighter posture with shoulders back, chest out and a looser, more fluid and quicker stride as all my joints were more flexible and pain-free. Physically, I felt like my body did 20 years earlier.

7.

 Workout Performance Enhancer
500 - 1000 milligrams of NMN reportedly unlocks greater reserves of physical strength. A middle-aged biohacker enthusiastically reports: 
The big change was increased endurance in the gym and on my bike. I had more and more "good days", and found I was increasing the weights I used, and getting better times when I worked hard on the bike... Now, I can push weights in the gym like I did 20 years ago.
8. 

Arthritis Treatment

When I was on NMN, the arthritis in my knuckles began to clear in the 3rd week. By the 3rd month, all of the arthritis in every joint in my body had cleared. That was the same experience for 3 other members of our NMN group that also had arthritis. When I went off the NMN, the arthritis started to come back after about a month and after 1 year of no NMN, it had returned to all of the joints that were previously affected but not to the pre-NMN degree of pain and stiffness. After 1 year of no NMN, I tried Niagen for 3 months. After 3 months, I did not notice any clearing of arthritis from any of my joints. After the 3 months on Niagen, I restarted my NMN regimen. Once again by the 3rd week, I noticed that the arthritis had started clearing from my joints and by the 3rd month the arthritis had once again cleared from every joint in my body... NMN had cleared the arthritis from every joint in my body.




9.

 Anti-Inflammatory
Further studies showed improvement in markers of cellular energetics and attenuation of inflammatory response with [NMN] treatment.

10.

 Sirtuin Modulation
Deep in each of your cells, you can genes for addressing whatever biological challenges you face. But, for your genes to respond dynamically to stress, environmental toxicity or illness they need to be switched on or off. This is done by Sirtuins, they are the light switches of the genome.

"I'm 32 and spent $200k on biohacking. Became calmer, thinner, extroverted, healthier & happier."
-Serge Fauget, Silicon Valley Entrepreneur and Millionaire
The whole idea behind Infinite Age Co. is to offer a line of supplements that can actually reverse your age. 
We carry products that can also protect you from future injuries and illnesses so that you can keep knocking out that to-do list, hitting the gym, and living your best life.
We believe in science and supplements. And with proper use, you can biohack your way to a longer, happier, and more productive life. 
Everyone gets old. And as you age, things that were once easy become harder. Exercising, an active hobby, or even your job can no longer be practical once those miles you've put on your body start to show.
A stressful career or hyper-active lifestyle can even cause premature aging. This can have a negative impact on your lifestyle and can even cause productivity problems, pain, and sleepless nights.
But thanks to this thing called biohacking....

You can actually reverse the wear-and-tear on your body. 
YES! That means reversing your age.
How?
Infinite Age Co. products were specifically formulated, for biohackers by biohackers, to maximize your vibrant longevity. Our products do everything from healing injuries (BPC) to boosting your NAD+ levels (the thing that reverses aging).
Our founder, Russ Symes, is a hard-working entrepreneur. And like most entrepreneurs, he was overworked and stressed out. This led to a slump in his productivity and premature aging.
After hearing about how Silicon Valley entrepreneurs and professional athletes were biohacking to increase productivity and reverse their age, he decided to dig a little deeper into the subject.
Countless hours and thousands of dollars were spent… but after it was said and done, he discovered the most effective supplements to reverse his age.
These same products are now available for you through Infinite Age Co.
But don't expect to find these products at your supplement shop. These are the most cutting-edge products, backed by science, that work to actually stop aging in its tracks.

Biohacking has grown in popularity as more and more top athletes, CEOs, and entrepreneurs are discovering it's benefits. As science progresses, we are finding more ways to biohack our bodies to extend our life and feel younger.
Infinite Age's mission is to find the most effective products so that you can start biohacking TODAY!
Check out some of the most famous biohackers today:
With Biohacking, You Can Battle Old Age With Breakthrough Supplements Backed By The Latest In Science…..
But Don't Just Take Our Word For It, See What Our Customers Are Saying About Infinite Age
:
★ ★ ★ ★ ★
I rarely write reviews but must with this one. My doctor told me about bpc recently after dealing with a torn tricep and anxiety. My tricep has been torn since March 2019. One week into this stuff and my tricep is starting to flex again! It's actually healing! I'm a personal trainer and haven't been able to utilize any push movements so I've been feeling down about my lose of muscle size up top... the other day I was able to bench almost as much as I left off for the first time in months! Also my anxiety and energy levels have drastically improved. 5 stars all around for this one. Bpc doesnt break down in your stomach acids and is able to go to the damaged tissue or muscle so injections aren't necessary, finally good to see an oral bpc product. My bloodwork also came back with lowered liver enzymes and creatinine whereas they were on the high side prior. Cant wait to continue this product and see what other miracles this can do.

This is my personal experience I am not a doctor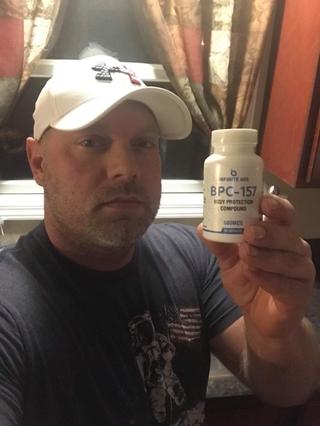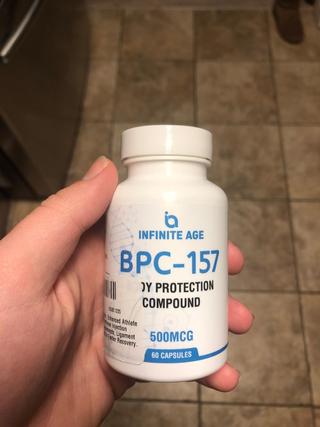 ★ ★ ★ ★ ★
Such a wonder supplement to repair or heal almost any type of injury or condition. I've used BPC to fix my mother's tennis elbow, and to heal my wife's sciatic nerve pain caused from a disc herniation. I'm glad I've finally been able to find an oral version. The oral method works just as effective and systematically. I'm using it now to heal my leaky gut that I've recently been diagnosed with.

They're small and easy to swallow. Each capsule has the max dose needed for BPC to be as effective as possible (500 mcg), so you only need one per day.

★ ★ ★ ★ ★
I think this product is great for people seeking recovery from injury; whether it's sports related or just some pesky tendon or area that bothers them. I've had some tendinitis issues in my right bicep tendon and left knee ever since some kickboxing fights years ago. It has helped pretty much get rid of the achy feeling and associated pain; I'm actually able to do things that utilize it! (Kickboxing, weights, etc). Great product because it's not an injectable which has caused me to shy away from using it in the pasty. Happy to have found this on amazon.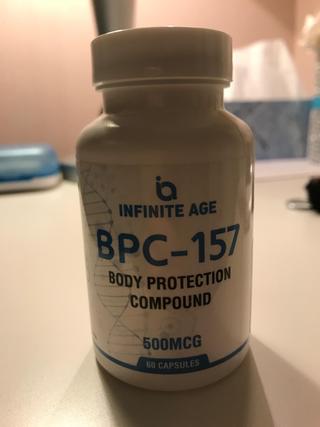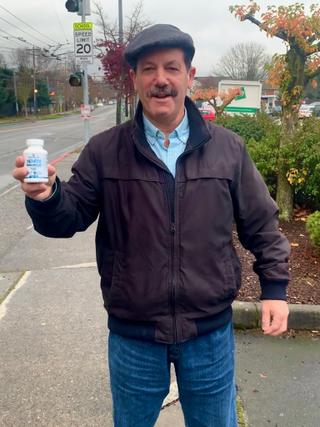 ★ ★ ★ ★ ★
I'm 41 years old and have experienced a gradual decrease in energy levels over the past few years. I tried other NMN products and they were pricey and the results were satisfactory.Then I decided to try out Infinite Age and the results have been great and it didnt set me back price wise.With NMN I feel more focused and do not feel lathargic throughout the day. Ive tried a few other nmn products and found infinite age to produce the results I expect from a genuine NMN product.
★ ★ ★ ★ ★
Best quality NMN on the market hands down. I've been searching for a quality product and been trying different ones for few years now, but I have found exactly what I have been searching for with this product. In a very short amount of time I noticed more energy, positivity, alertness, overall I've felt and seen noticeable results of mental clarity. This is definitely a product I will continue to re order. This product is also much cheaper and more efficient than other options available. Very happy and beyond satisfied with this product.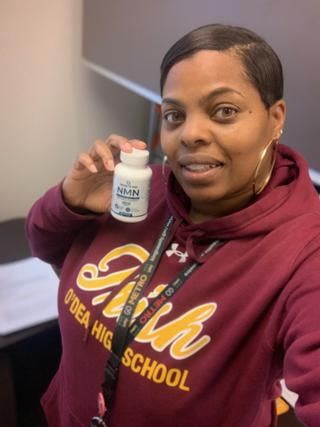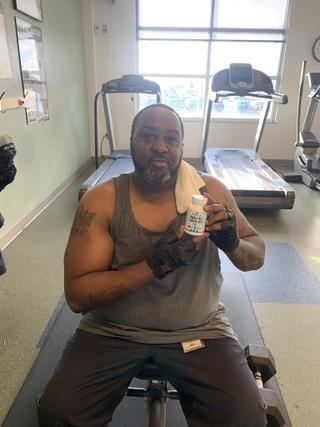 ★ ★ ★ ★ ★
I've been taking this for a week now (2 in the morning while in a fasted state) and it's really helping with mental focus and eliminating brain fog. I recently stopped drinking caffeine and had been feeling cloudy in the morning. I ordered this NMN to help with focus and energy. It works fantastically! After looking at some other brands, I picked this one because 1) it's reasonably priced and 2) unlike other companies that just slap a "3rd party tested" label on their product, these guys actually produced the certificate of analysis! I would absolutely recommend and will for sure buy again.
Infinite Age PURE NMN (250mg) Supplement
Infinite Age C60 Fullerene
Infinite Age Body Protection Compound